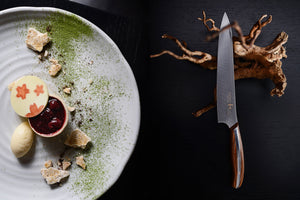 500 Years of Tradition
The Watanabe family has been in the business of handcrafting samurai swords for more than 500 years. Based in Seki, a Japanese city with a rich history of knife making, Nagomi knives are still precisely crafted in the same place where Samurai traveled from all over the land to sharpen their own swords many generations ago.
Buy Now
A History of Precision
Decades of Japanese artisanship and the finest quality materials make Nagomi knives an investment for home as well as the workspace. Nagomi blades are revered by patissiers and chefs from around the world.
An Exceptional Blade
The modern design of our blades focuses on durability and function, while still using the time-worn methods of knife making. Our blades are made from 440A molybdenum steel, with an HRC hardness of 58, featuring a customizable edge for right or left handed users.
A Handle You Can Trust
Prized for its durability, water resistance, comfort, and beauty, our handles are made of FSC certified wood sourced from Italy. Rivets are uniquely sealed and hidden to keep the tang of the blade in place unnoticeably. In the final process of crafting our knives, each handle is polished by hand to attain a pristine and sleek finish.